Our Summer Months Here at CBC RGV Have Been Bear'y Busy – From Record Breaking Sales and New Franchises to the Area, to New Team Members and Work Anniversaries; Here's a Few of Our Favorites –
August 15
SIORglobal
The numbers speak for themselves – great job to Daniel Galvan, SIOR, of Coldwell Banker Commercial for landing the top office deal for this week! Your $12M deal in Edinburg, TX is one for the books.
#SIOR #CRE #Transactions #DealMakers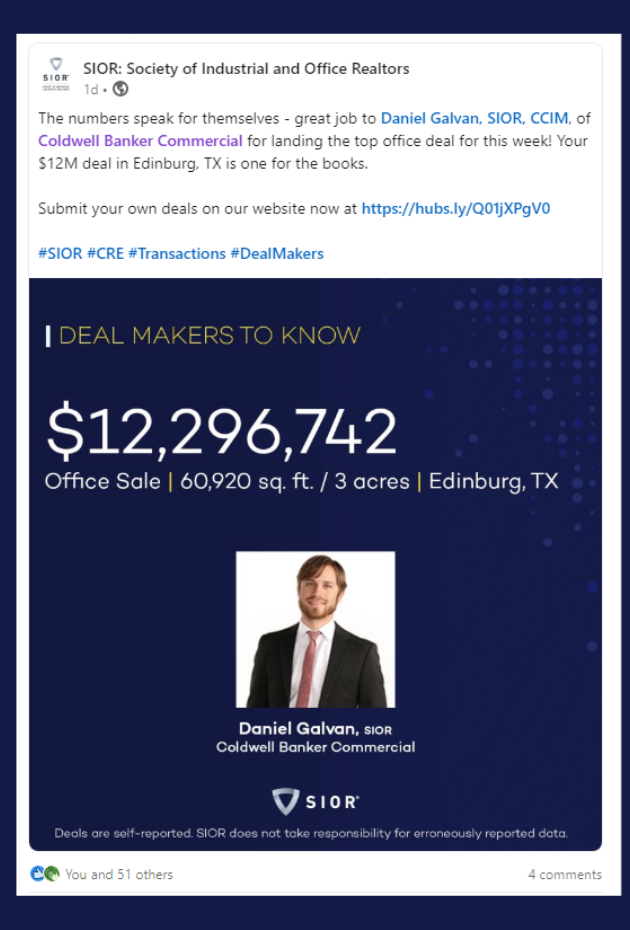 ____________________________________
August 14
Black Bear Dinner
"We are delighted to expand our presence into the southernmost part of the state, and the opening of our McAllen diner is a significant step for Black Bear Diner as we continue to execute our development plans in Texas,"
said Anita Adams, CEO of Black Bear Diner.
"The local Texan communities have been very welcoming, and we look forward to bringing our home-style comfort food to even more guests across the state later this year."🐾🐻🍳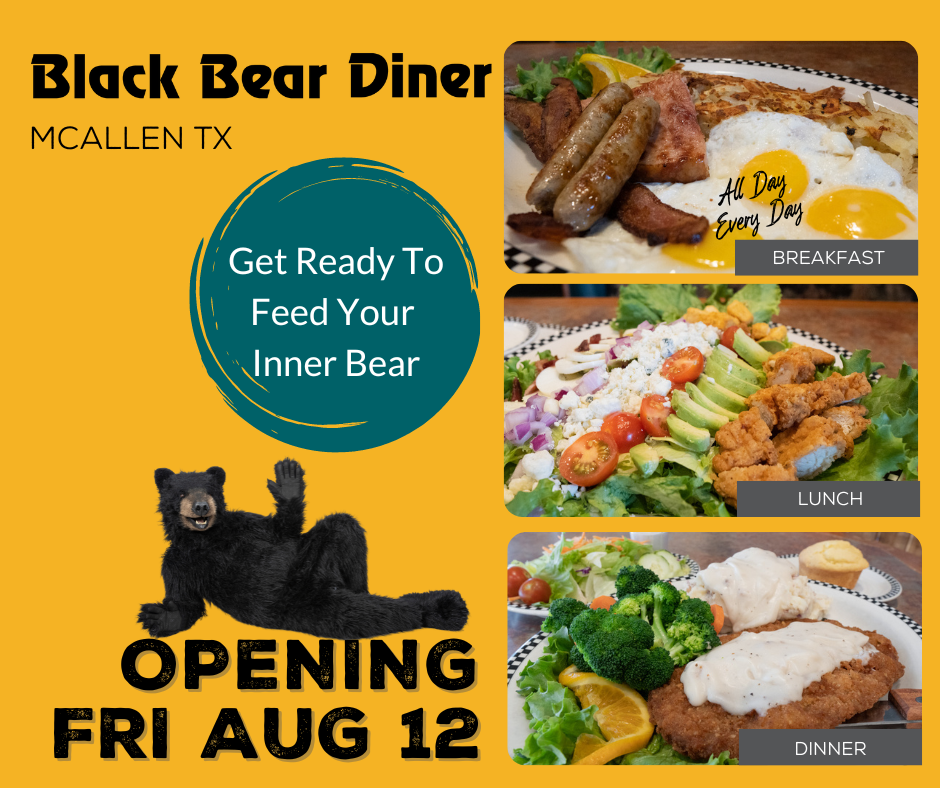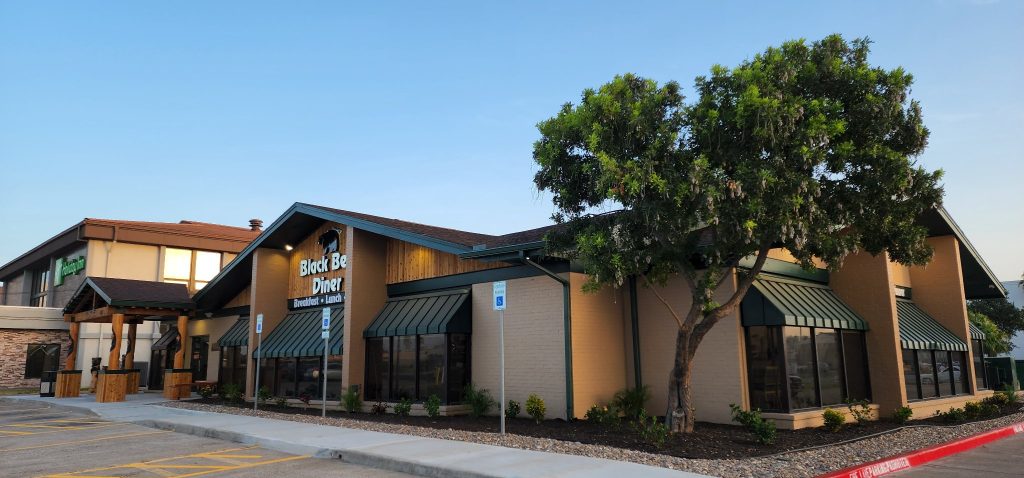 ____________________________________
August 1 
Felo Guerra III
"Today will always hold a special place in my heart. On August 1, 2019 our baby girl Corina Juliet came into this world. I can't believe she is already three years old. Time really flies.
August 1st is also the day that our old firm (Pointer Realty) officially merged with Coldwell Banker Commercial Rio Grandy Valley a year ago
. This merger has been a very good one to say the least. The tools and resources Coldwell Banker has to offer have enhanced our ability to perform at a higher level and better serve our clients.
This combined with our team's overall experience makes us the Premier Real Estate Brokerage in our region.
A special thanks to everyone that has put their trust in me throughout the years.  I have gained so much experience while developing lifelong relationships with some amazing folks.
If you are in the market to purchase, sell or lease  a property, I would really appreciate the opportunity to assist you with the process.
Thanks Again and HAPPY BIRTHDAY CORA!"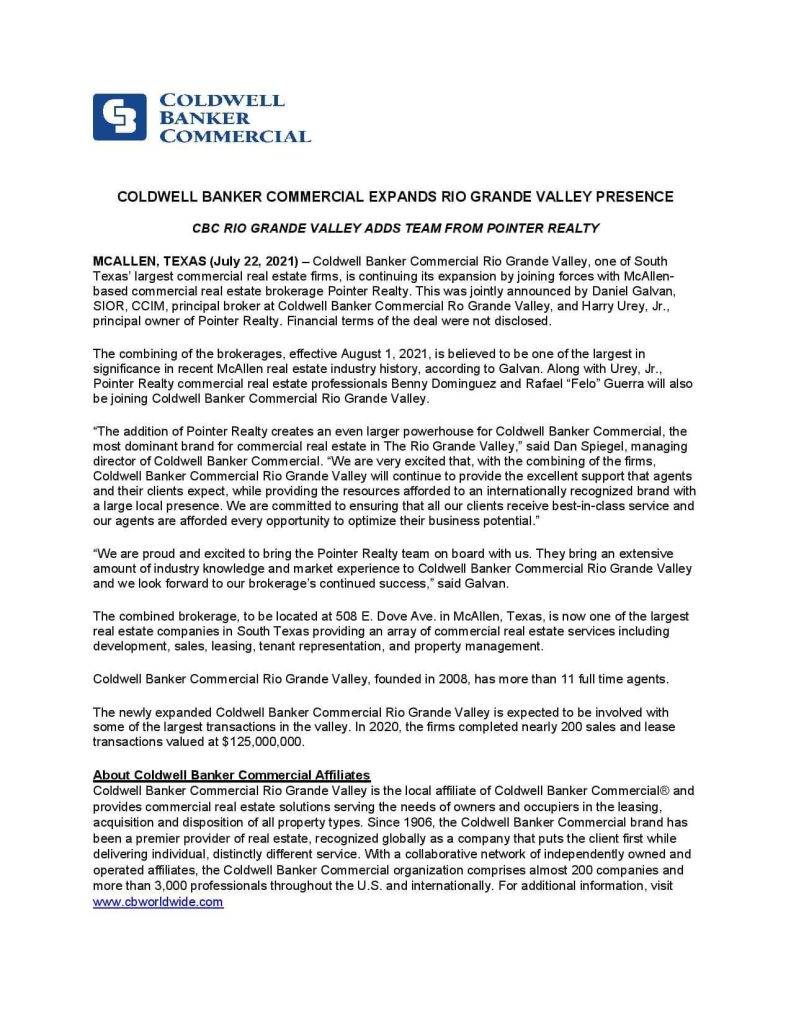 ____________________________________
August 1
Alejandro Adame
We Are Excited to Announce Our New Associate at Coldwell Banker Commercial Rio Grande Valley – Alejandro Ignacio Adame!
Being an ethical, responsible, and effective individual, Alejandro provides a unique experience in a saturated market.
Possessing a vast array of exposure to several industries including supply chain, engineering, and finance has allowed Alejandro to develop an expansive set of skills and a powerful list of contacts.
He is a lifelong valley native with great insight into the market, as well as the opportunities it presents.
He looks forward to his career with CBC-RGV, and the lifelong relationships he will form. In his free time, Alejandro enjoys time with his family, traveling with his fiancé, and fitness.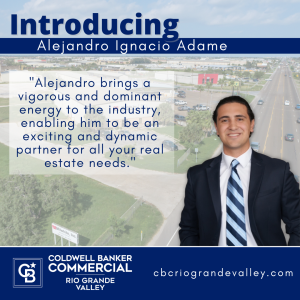 ____________________________________
August 2
The Rockin' Cue, Harlingen
The day has come!!! Tomorrow, Tuesday 8/2/22, we will officially be opening our doors to the public! OPEN 11am to 2am Everyday. Rockin Cue team is excited and ready to serve you and your parties.
Check out our awesome menu here >>> https://www.therockincue.com/menu as you're invited to join us at the most amazing newest and hottest venue for #Harlingen #NightLife 🎱 🥃 🎉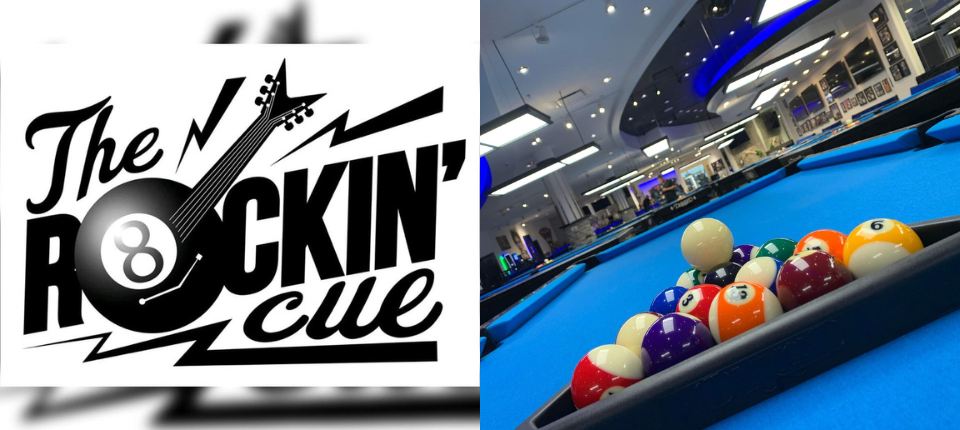 ____________________________________
July 28
Just Sold!
2800 W. Trenton Road, Edinburg, TX
This Class A Office Building Located within Cornerstone Medical Park in Edinburg is Under New Ownership!
The 60,920 Square Foot Building was 99% Occupied at Time of Sale and is a Staple in Edinburg. Tenants include The United States of America, New York life, and Molina Healthcare of Texas.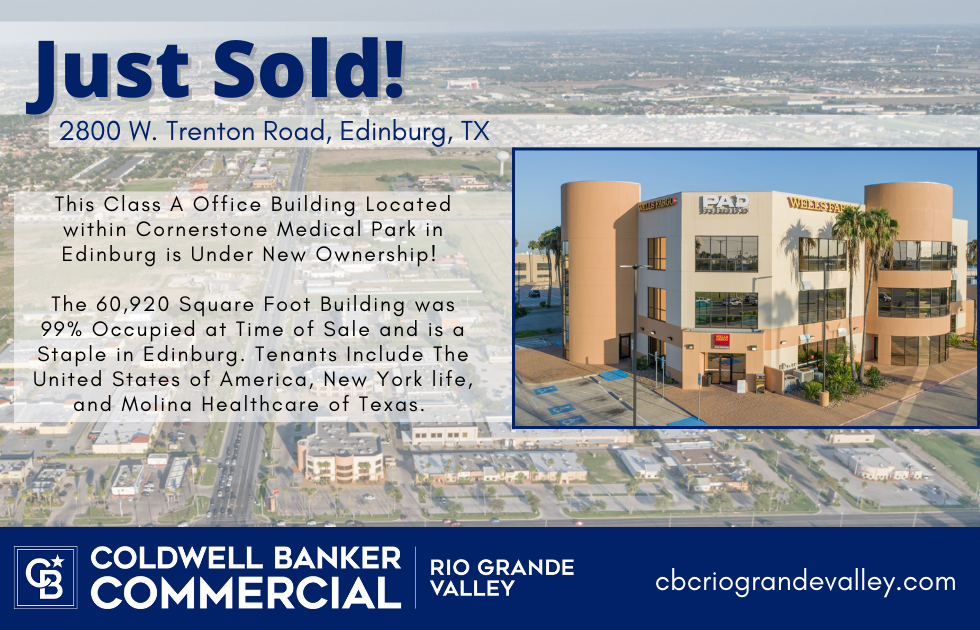 ____________________________________
July 27
Zack Guerra
"Long overdue, but I thought I would share that I have officially joined the @coldwellbankercommercialrgv team.
Over the last few months, I have been blessed to get to know some of the kindest and most successful agents around, and on top of that, I get to share an office with them.
Excited to see what the rest of the year brings! Give me a shout if you want to talk real estate and this crazy market we are in. @lamansionrealestate"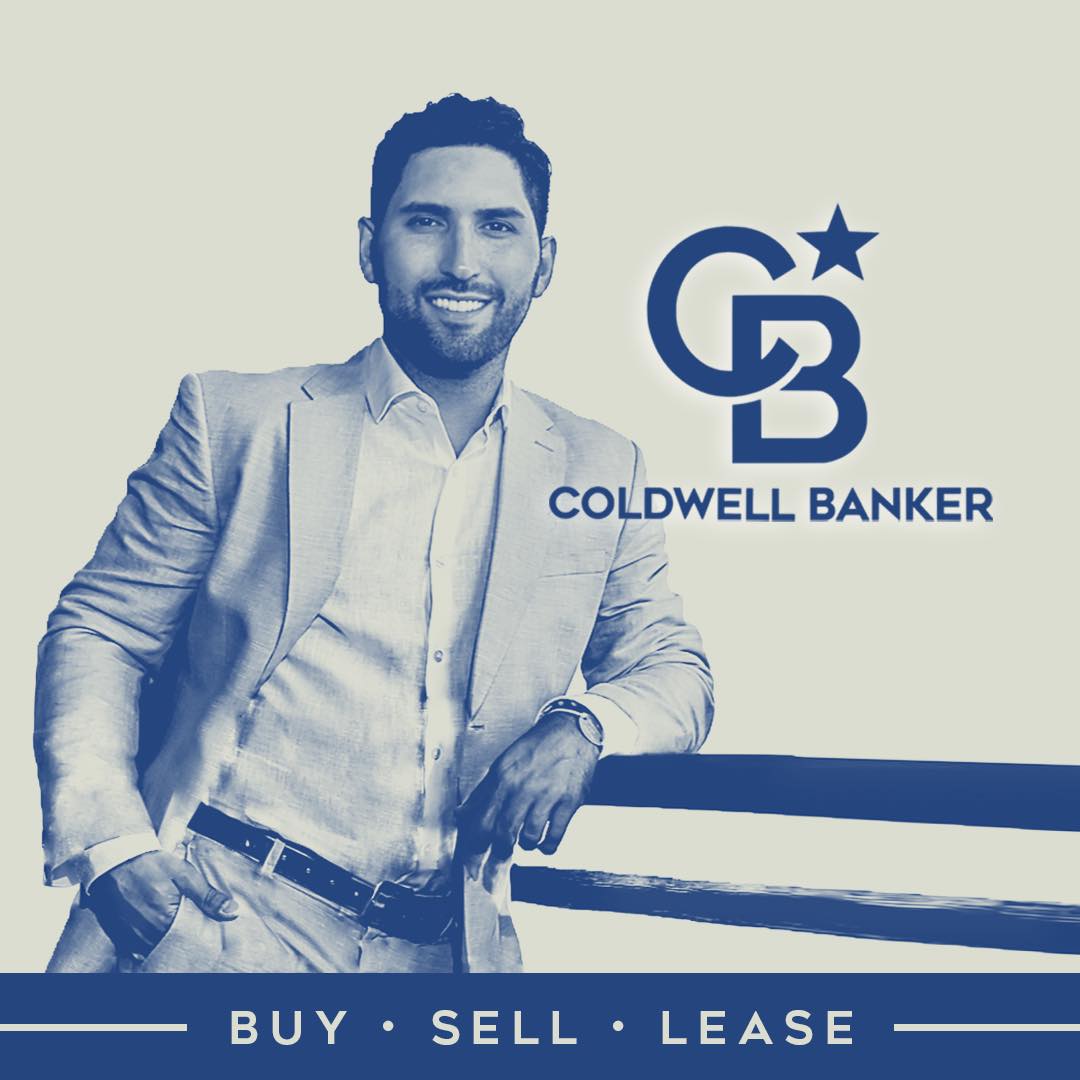 ____________________________________
July 26
Jersey Mikes Opens In North McAllen
Working with Franchises Takes Time But the Rewards are Always Delicious!
7600 N. 10th st #800-C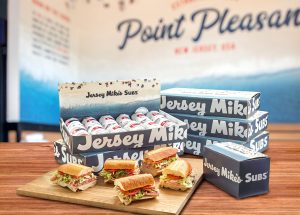 ____________________________________
July 16
Another successful Rio Grande Valley Partnership Commercial and Investment Tour🎉
Congratulations to the City of Brownsville, TX – Municipal Government,  Greater Brownsville Incentives Corporation, Brownsville Community Improvement Corporation, Elm Creek Real Estate
and sponsors for an amazing BTX Developers Event hosted at the beautiful new Main Event center in Brownsville‼️🙌
Many thanks the amazing RGV Commercial & Investment Tour Sponsors for their continued support in connecting our Cities in the #RGV with economic development opportunities. 🏗🏘🏪🚧
Coldwell Banker Real Estate LLC, @SAMES, Mandy Saldana, & VTX1 and many more.
#collaboration #PartnershipMatters #regionalism  #economicdevelopment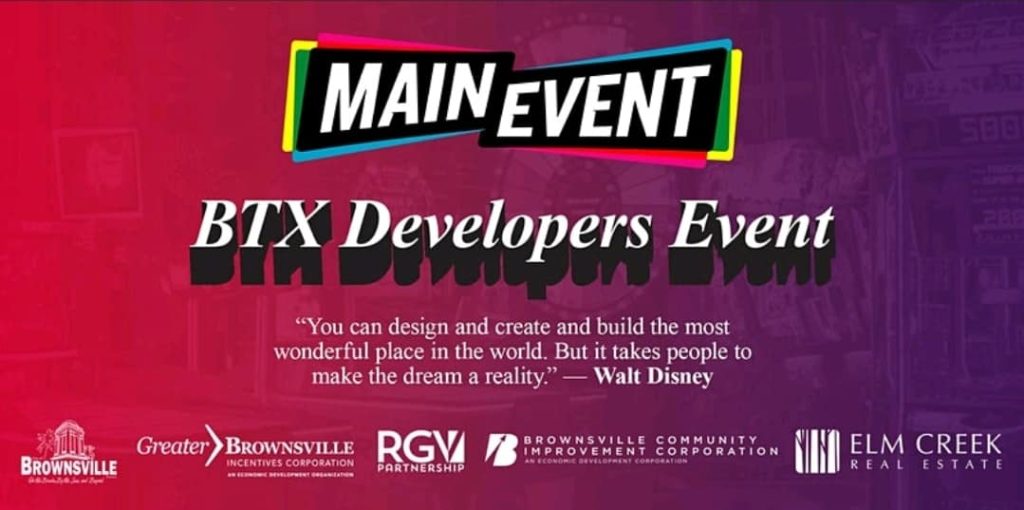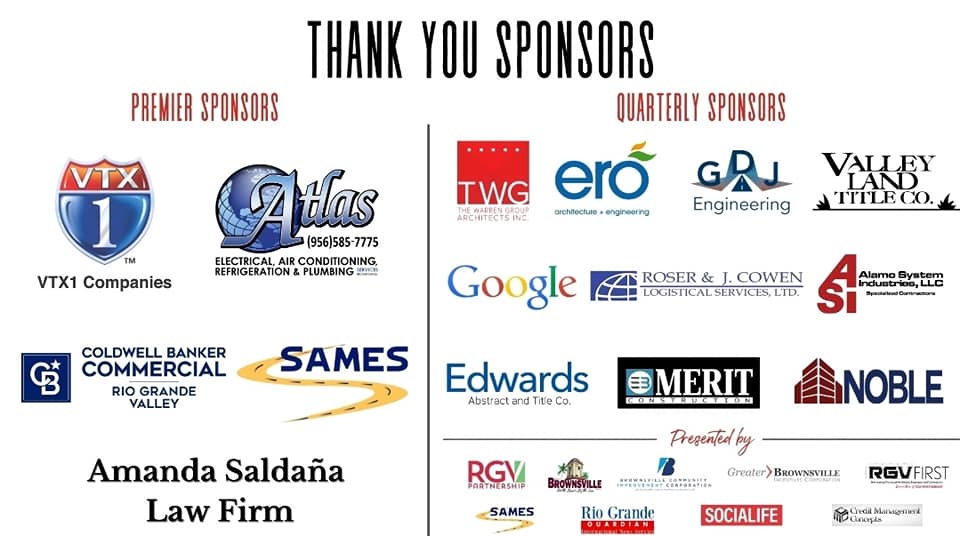 ____________________________________
July 17
Just Leased!
Freedom Bank 2nd Floor Office Space
533 N. Alamo Rd, Alamo TX
800 Square Feet of Prime Office Space Located Directly off the Expressway Will Be The Next Headquarters for Vallee Oil Inc.!
Vallee Oil and Gas Management Serve the Texas, New Mexico, Louisiana, and Oklahoma Region with Commercial Construction & Demolition, Disposal, and Logistics services.
They Offer Decades of Oil, Gas, and Technology Experience to Provide The Best Logistics and Disposal Services Possible.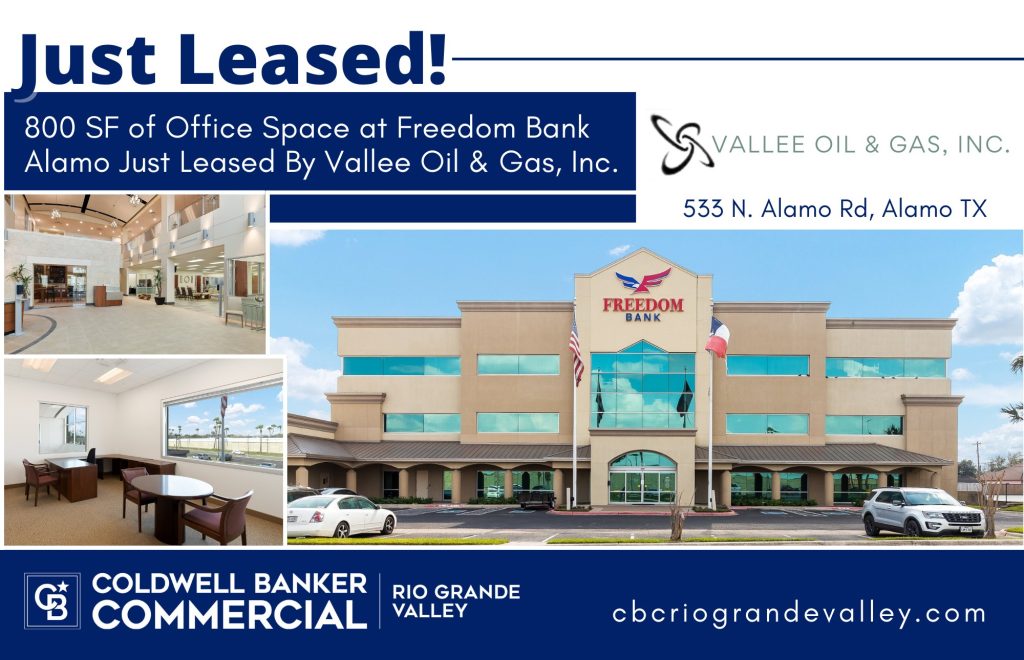 ____________________________________
July 5
Just Closed!
7 Brew Coffee in Corpus!
6133 Saratoga Blvd. Corpus Christi, TX 78413
23,958 Sqft / 0.55 Acres of Commercial Land Along Saratoga Boulevard in Corpus Christi Has Just Been Sold in Anticipation of The Areas First 7 Brew Coffee!
The Site Which Sees 40,286 Vistors Per Day Traffic on Average Will Complement the Already Existing Retail & Medical Area.
7 Brew is a Drive Through Coffee Shop Serving Premium Coffee in Record Time and Making New Friends in the Process.
Originally Started in Rogers, Arkansas with 7 Original Coffee Blends 7 Brew is Now Creating Custom-Hand Crafted Drinks To-Go Around the Country.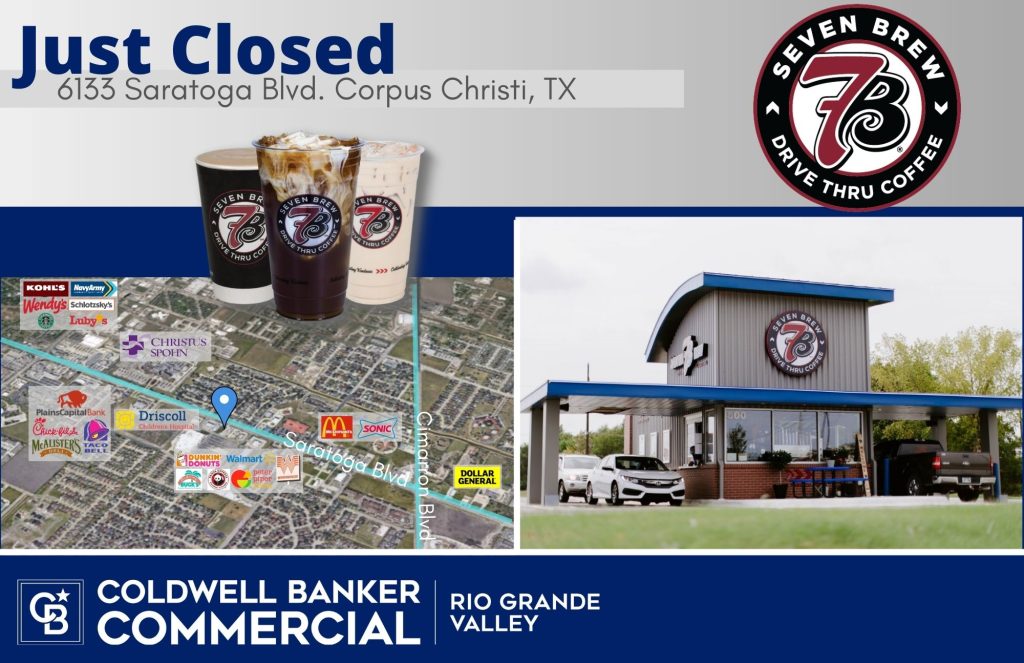 ____________________________________
June 30
Congratulations F45 Training!
The Recently Leased North Trenton Commercial Space Will Bring An Exciting New Brand of Fitness to the RGV;
Making it The First Functional Fitness Concept to Market in the McAllen Area! Harry Urey Jr Represented F45 in the Lease.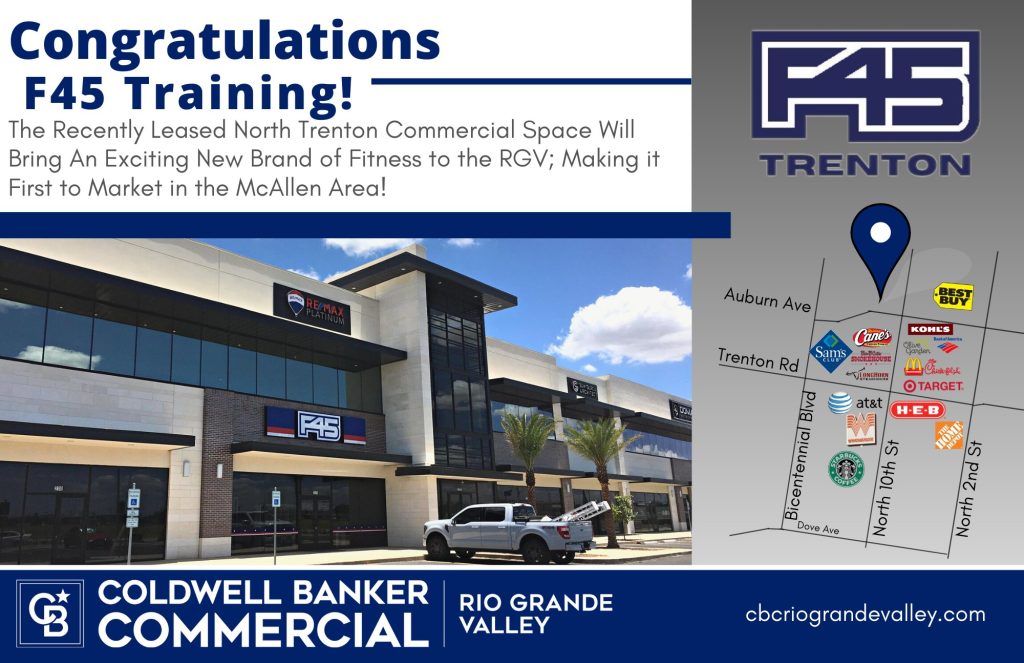 ____________________________________
June 27
𝗝𝘂𝘀𝘁 𝗦𝗼𝗹𝗱!
67 Acres of Mixed-Use Land Prominently Located on the Northwest Corner of Las Milpas & Veterans Road. Currently Zoned for Agricultural Use with Potential Industrial Development Coming Soon.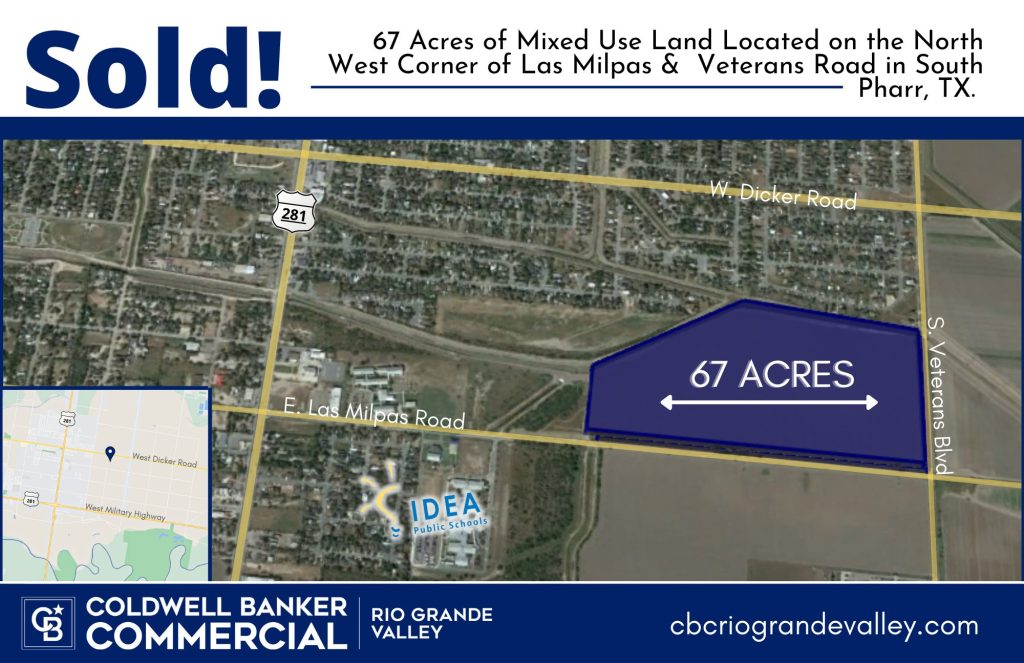 ____________________________________
June 20
𝙅𝙪𝙨𝙩 𝘾𝙡𝙤𝙨𝙚𝙙!
 𝘿𝙪𝙩𝙘𝙝 𝘽𝙧𝙤'𝙨 𝘾𝙤𝙛𝙛𝙚𝙚!☕✨
Coldwell Banker Commercial Rio Grande Valley has Just Closed a Transaction That Will Bring The RGV's First Dutch Brothers Coffee to The North McAllen Area.
Founded in 1992 as a Simple Pushcart, Brothers Dane & Travis Have Built an 11 State Empire on Expresso's and are Now Setting Up in The RGV!
We Would Also Like to Thank The Retail Strategy from Austin, Texas! Always a Pleasure Doing Business with You!
#CBCRGV #CBCWorldwide #RealEstate #CommercialRealEstate #RGV #McAllenTX #DutchBros #Coffee #Foodie